New Patients at Aria Health and Wellness Clinic
At Aria Health and Wellness Clinic, you'll feel instantly welcome in our family-friendly, warm atmosphere. We see patients of all ages and levels of health, from babies to expecting moms and athletes to senior citizens. Below, you can read more about what to expect if you're a new patient for chiropractic, massage, or Pilates.
Chiropractic Care
During your chiropractic appointment, you will have some forms to fill out, which our staff will explain to you and assist you with. You'll go to an exam room to meet Dr. Sandhu or Dr. Adair, who will go over your health history, what has brought you in and what your goals are. An examination will also be performed, and if indicated, you'll receive your first treatment.
At a subsequent appointment, you'll meet Dr. Amar to review the findings of your exam and your proposed care plan, continuing with a treatment at each follow-up visit.
Just as taking your vehicle in to get it serviced at recommended intervals can keep it running at its peak, maintenance care for your spine can help you stay healthy. We aim not to have you here for the rest of your life but instead to help you correct the issue and maintain your overall health. In addition to the care we give you in the practice, our goal is to provide you with some tools you can implement at home to stay well.
Take advantage of our new patient special offer and receive a complimentary chiropractic consultation!
Registered Massage Therapy
All first-time massage patients have an hour-long appointment so that our registered massage therapist can get to know you and your health concerns. You'll fill out some forms, then go into a private treatment room for a brief health history and examination. You'll receive your massage and discuss any follow-up care with your massage therapist.
Home care exercises or other activities may be prescribed to enhance the effectiveness of your treatment plan.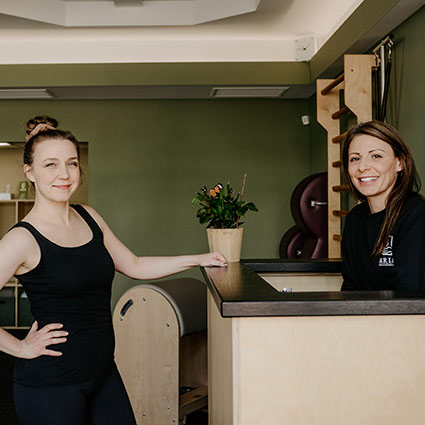 Pilates
If you're new to our Pilates classes, you'll have some forms to fill out which our staff will explain and assist you with. Then, you'll meet with our instructor to discuss your goals. Those who haven't done Pilates before will complete a private lesson before entering classes so that you understand the basic exercise principals. You can also schedule private and semi-private lessons. You and our instructor will decide together on a routine that works best for you.
Take the First Step
Contact our team today to schedule your appointment. We look forward to meeting you soon!

New Patients at Aria Health and Wellness Clinic | (250) 384-8038